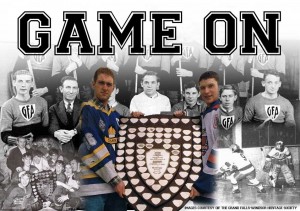 Game On
Three hockey players, cheerleaders, and a Nun walk onto a stage…sounds like the start of a cheesy joke, right! But no…it's the opening of a fresh new comedy celebrating the glory, or not so glory days of The Jones Shield High School Hockey Series. Join us for a fictional romp back to a time when the annual battle for "The Shield" was less than 40 years old. There was fierce rivalry ON the ice, contrasting friendships and romance OFF the ice, making the "games" all the more gripping. Come join us during a time when pep rallies and Twixteen dances were in season as we stir recollections for generations of players and fans that made The Jones Shield Hockey Series an enduring part on our local sports culture. Oh . . . . And featuring the music you all knew and loved.
Queen Street Dinner Theatre gratefully acknowledges the support of Steve Crocker MHA and the Department of Tourism, Culture, Arts and Recreation for its generous financial contribution towards this Come Home Year special presentation.
We would also like to acknowledge that all images are courtesy of the Grand Falls-Windsor Heritage Society.
Doors Open     6:10 p.m.
Please be seated by 6:25 p.m.
First course served 6:30 p.m.
Click Select Options to choose the quantity along with the type of Adult, Senior (Age 65 +) or Student